Simply put, Command is more than a CRM – it's a platform that puts you in control of your database, your business and your future. And, because Command was built hand-in-hand with agents, it's designed to be used by agents. By you.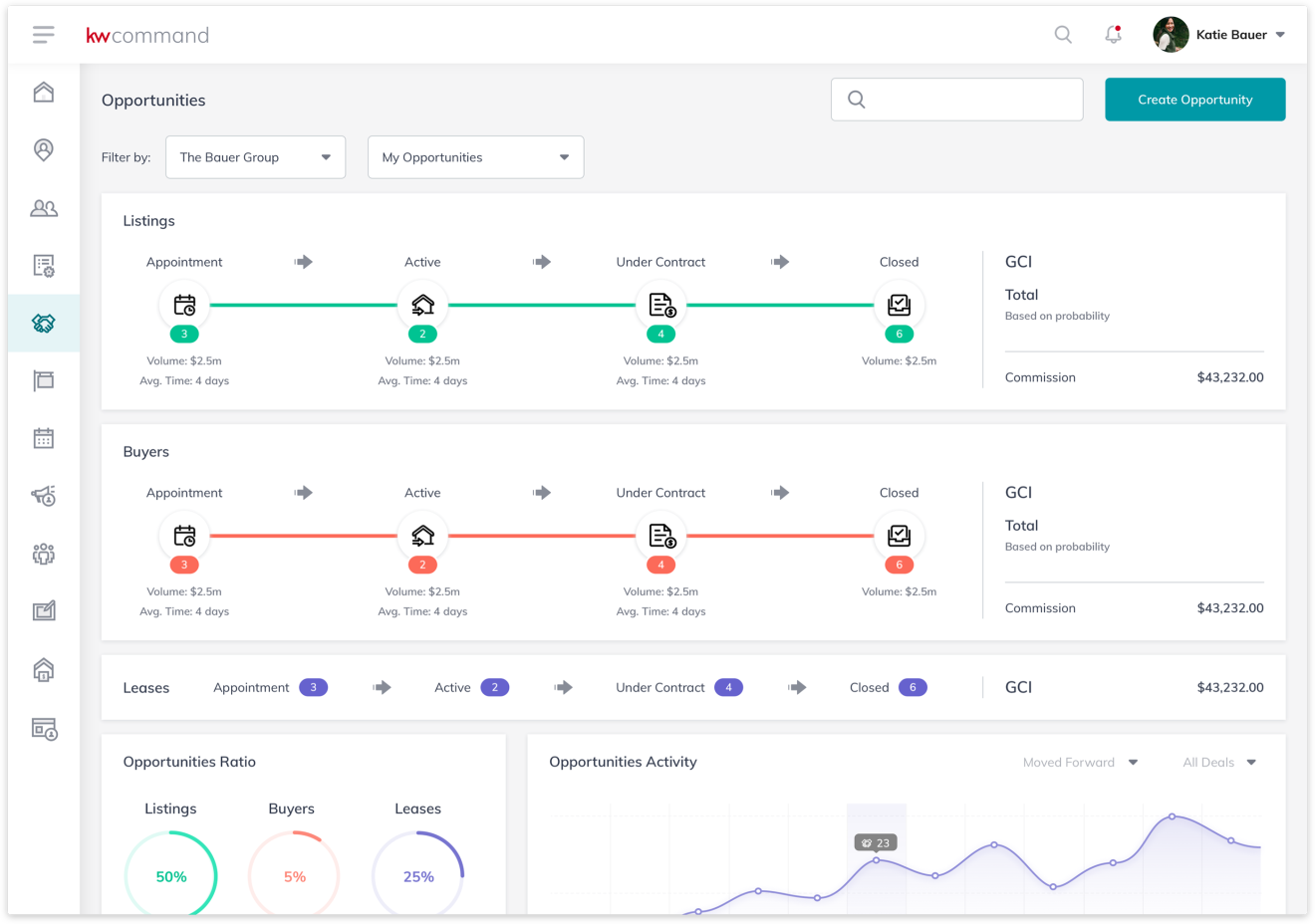 Command is simple, smart and human.
We started to make our system more human by talking to it. When you add contacts by voice command with Kelle, or track calls, texts, notes, and any other customized fields, they'll sync automatically across all platforms.
Plus, Command identifies and prioritizes who to contact and when, so you're never out of touch and always top of mind. Kelle and Command "think" about your business and your customers, using information gathered from the largest agent network in the world to give you suggestions in real time. It allows you to spend more time doing what you do best – having more conversations and building deeper relationships to earn more business.
New Features
Keller Williams owns the only platform that allows for what we call the "Monthly Neighborhood Nurture." Because people associate themselves with neighborhoods instead of arbitrary boundaries, like ZIP codes, we associate everything – from your database, to marketing, to prospecting – organically by neighborhood because that's what is most relevant to your clients. When you add a new contact to Command, it automatically associates a neighborhood to the new contact using their address, so you can provide them with the most relevant information, such as their neighborhood's migration patterns or median home prices. Marketing has evolved from the one-to-many to one-to-one capability, providing value at the home and neighborhood level. This kind of customized landing page, with neighborhood-specific data, is vastly more effective than typical agent websites — which he said 97 percent of the time don't actually accomplish what they're supposed to. We saw a 400% increase in engagement and conversion for agents. Our platform has already mapped over 210,000 neighborhoods and growing. An example is, Redfin only knows a general area of 'THE MOVIE COLONY in Palm Springs — we know the different nuances between THE MOVIE COLONY and THE MOVIE COLONY EAST — each with their own market, their own pricing, their own inventory and their own personality.
Win the Listing with Listing Consultations That Wow!
KW Command can create personalized, data-driven listing consultations that fully engage your sellers and lead them to make smart decisions for themselves and their families.
Team Management
We're developing new team functionalities all the time, and Team functionality is already an integral part of business-critical applications including Opportunities, Contacts, and Reporting. Rainmakers can divide their teams into sub-teams within Command, based on their own criteria. In the near future, Rainmakers will also be able to permission certain members to share and view team member contact lists and opportunities.
Command can also integrate with with over 150 different systems and platforms such as Boomtown or Brivity.
Other features include a chat tool that is designed to enable collaboration between agents, groups that connect agents to each other, and referral management tools. Agents can additionally use Command to set up both digital and print marketing campaigns.
The tech-enabled agent demands that their technology not replace them, but help them be 'more' … more trusted, more present, more everything. Grab every opportunity. By joining forces with us, you'll gain access to a powerful, interconnected technology suite that helps you do just that.
Join the revolution. It's time to take COMMAND.