Amazon, Uber, Google…Technology is rewriting the rules, reinventing job descriptions, creating new industries and eliminating others.
"I'm ready to rewrite the rules if you are."
In February 2018, Standing onstage – dressed in his signature black attire – Gary Keller, co-founder and chairman of Keller Williams, delivered the most anticipated speech of the year to a packed house at Family Reunion in Anaheim, California.
Right now, there is a battle in the real estate space competing technology models. Companies are either enabling their agent businesses with technology or enabling their technology with agent businesses. We can think of this as a tech-enabled Agent model versus an agent-enabled tech model.
In a recent video on KW Connect (the most influential community of real estate professionals in the country), Gary Keller walked us through where he thinks we are today.
"We started out as real estate agents with the MLS book. You got it every week and you used that book to get the information on what was available in the market. And you shared that with the consumer. That doesn't exist anymore (and it's not coming back).
And then we have the tech-enabled Agent. The basic example of that so far has simply been MLS online. The agent is still at the middle of the service chain to the consumer.
And then all of a sudden we have the Agent enabled tech. Realtor.com, Zillow, businesses that is where the agent is actually used to generate the data but the actual star of the service being provided is the technology itself.
And then we have, what some people predict, that all that goes away and we're just left with tech which gathers it and delivers it. That's not going to happen (Every great business will have a physical presence, for example Amazon has been dabbling in physical retail since 2015).
So we're left with only two models for the future for how the real estate agent and technology interact. The first option is, of course, is the tech-enabled Agent where the agent is the fiduciary and provides the value the tech enables them to do that and provide an amazing experience level. The other one is the agent enabled tech, which is really where the technology is the star of the service and the agent is really just a functionary providing it.
In the end we're left with a box (see the photo) and you get to decide. Do you want to be the fiduciary real estate agent that the functionary tech enables you? Or do you want to be the functionary agent and you enable the fiduciary tech? You get to decide."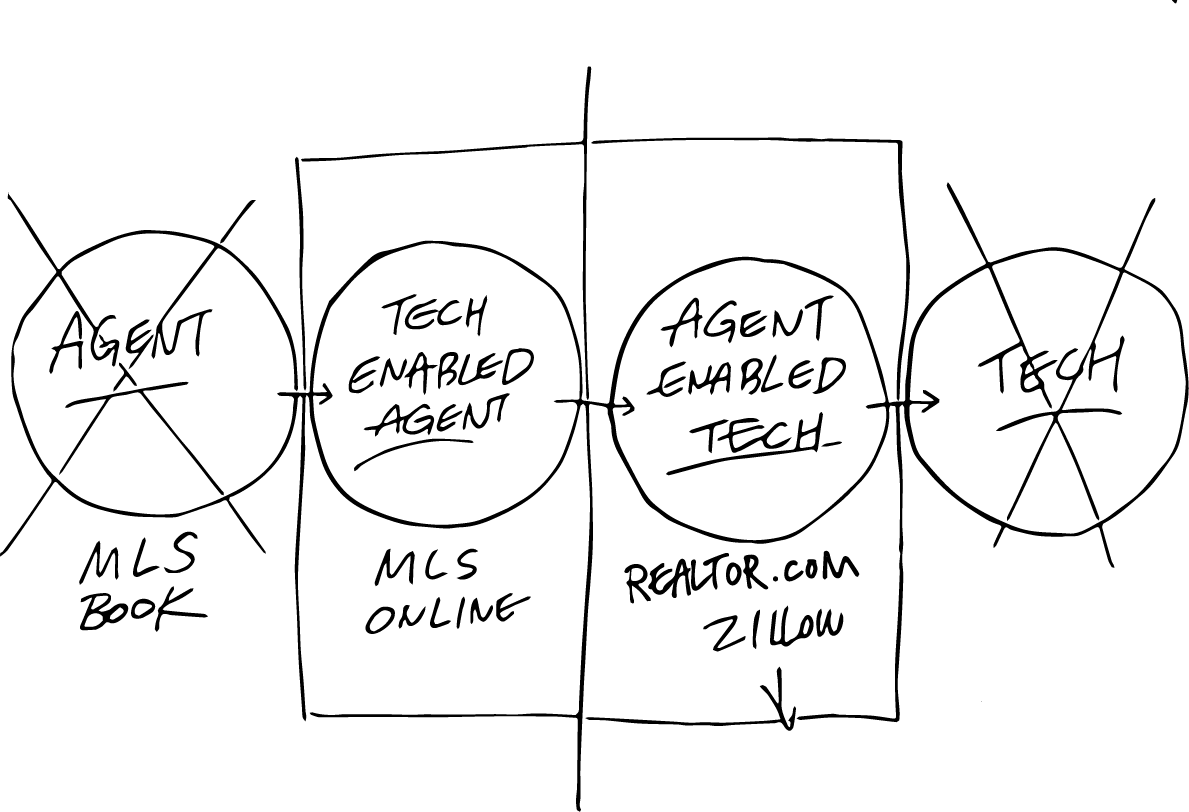 As a company built by agents for agents, as a company that designs technology for agents with agents, Keller Williams will always empower agent businesses with technology.
Quick KW technology update
Nextdoor is plugging in to the Keller Cloud!
Nextdoor is a private social media platform that brings the concept of a neighborhood into the 21st century. By harnessing Nextdoor's user-verified neighborhood boundaries and lifestyle data and combining it with our proprietary technology, KW is the first to seize an opportunity to provide you with yet another disruptive tool. Through Labs, you're building experiences that amplify Nextdoor's hyperlocal neighborhood insights.
Here is what experiences you can except, soon, through our partnership with Nextdoor:
Kelle (AI): Pull highly targeted, real-time and sharable market reports of neighborhoods across the United States.
Referrals: Find data-verified agents who've done business in the specified neighborhoods
What kind of data will we see from Nextdoor on Kelle?
You'll see neighborhood boundary data. These are user-generated boundaries, and that data will be available in Kelle, along with MLS data to provide hyperlocal, neighborhood specific information. Soon, we'll also include local favorites and recommendations.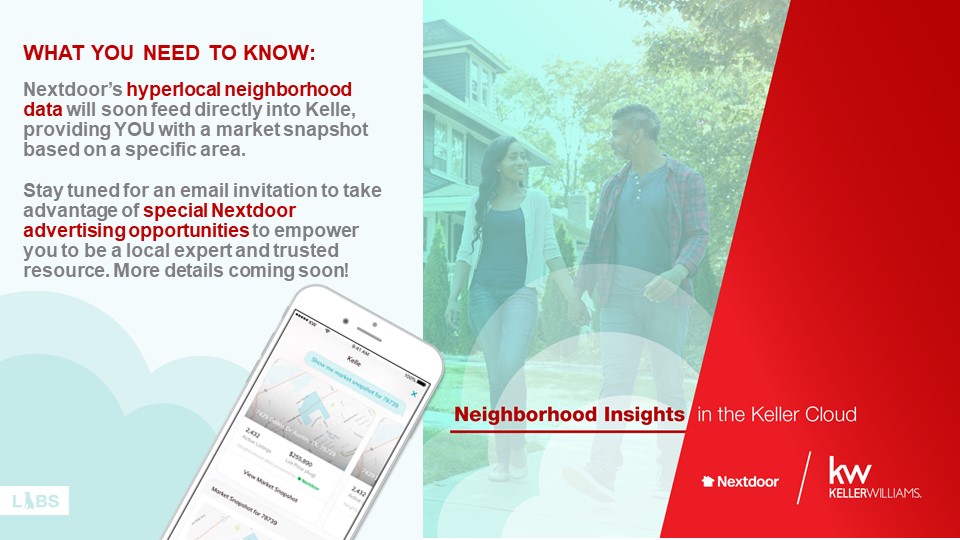 Is Nextdoor a layer on the Keller Cloud? We're creating our technology, not buying it, correct?
Yes. This is the greater vision of Keller Cloud. Nextdoor is piping their data into Keller Cloud and then we are creating insights for you to leverage through Kelle.
Zillow and Trulia treatment for KW listings
Keller Williams has an agreement with the Zillow Group which dictates how agent listings are displayed on Zillow and Trulia. Keller Williams has set up a direct feed with Zillow and Trulia which allows all active and accepted listings to syndicate to Zillow and Trulia.